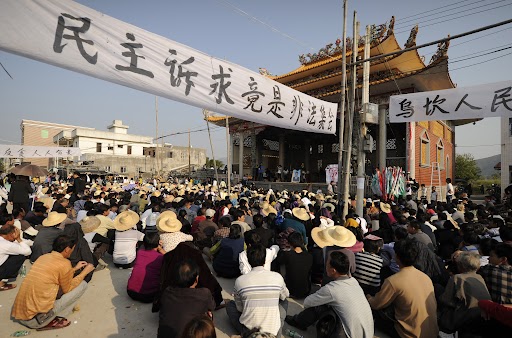 In September 2011, thousands of people in Wukan, a small village in Guangdong province, began protesting amid corruption accusations after local officials sold collectively-owned land to developers without consulting or compensating the villagers. After the provincial government allowed locals to hold the village's first-ever democratic elections, five of their 13 elected representatives were abducted by plainclothes police and one died in custody.
What followed was one of the most remarkable protests in recent Chinese history: residents stormed the local police station, forced out police and officials, and temporarily took control of the village. Though the central government promised to investigate the fraudulent land sales and redistribute confiscated land, corruption continued and protests rose again in 2016. This time they were quickly crushed by police. 
This Chinese-language investigative report published by iSun Affairs, a Hong Kong-based weekly magazine banned in the mainland, covered the Wukan protests in great depth while no mainland media even mentioned it until after it was over. In 2012, the story received an "honourable mention" for excellence in investigative reporting from Hong Kong-based Society of Publishers in Asia (SOPA) Awards. This report gained the "Wukan protests" international attention and became a symbol of resistance against corruption in authoritarian China.
About iSun Affairs
iSun Affairs was a short-lived, though influential, Hong Kong-based weekly magazine known for hard-hitting journalism covering Mainland China, Hong Kong, and Taiwan. Founded in 2011 by progressive policymaker and entrepreneur Chen Ping, this publication mostly employed Mainland Chinese journalists and took advantage of Hong Kong's free media environment to report on topics censored in the rest of the country. Within its first year of publication, iSun Affairs won four SOPA awards. Its journalists have been subject to harassment by Chinese officials for their critical reports. The magazine shut down in 2013 due to financial constraints. But Chen's television channel iSunTV, which aired a documentary on the Wukan protests, has expanded to a mobile media application which remains banned in Mainland China.
The Roaring Village — Death and Resistance in Wukan
investigative report by Annie Zhang, iSun Affairs, 2011
Wukan awoke this morning to the sound of funeral music.
Starting at 8 a.m. and continuing for the entire day, massive speakers atop the three-storey villagers' committee building blasted sounds of lamentation. With the committee members nowhere to be seen, the derelict building now had a white wreath of flowers fastened to its main entrance and two white mourning couplet scrolls hanging from the sides.
A sheet of A4 paper is taped to the building's door, with an obituary printed on it: "Mr Xue Jinbo, deputy chairman of the provisional representative council of Wukan Village, Donghai Town, Lufeng City, Guangdong Province, has always been a staunch advocate for righteousness and justice, dedicating his life to the collective good of our village, and never faltering in the face of oppressive brutality. He was recently abducted by the police, and at the young age of forty-three lost his life to torture. Wukan grieves the tragic loss of a righteous resident." The notice was signed, "With tears, the village of Wukan, 11 December 2011."
For 41 years, the same people had sat on Wukan's villagers' committee. After two years of petitioning the authorities and numerous street protests in the preceding two months, it was now occupied by a spontaneous uprising of the villagers.
Retribution and Death
On 21 September 2011, around 2,000 to 3,000 Wukan residents took to the streets in a mass petition, to protest backdoor land deals by the village officials and unfair local elections, leading to intense clashes between villagers and police the next day. In the aftermath of this public outburst of anger, village party secretary Xue Chang, committee chairman Chen Shunyi, and the entire villagers' committee, all of whom had remained in their positions for 41 years, simply vanished without a trace.
Under the counsel of well-respected village elders, the 13,000 residents of Wukan arranged an election for a "provisional representative council." Its members were chosen by ballot along family and clan lines. This 13-member council negotiated with town and city authorities for a resolution to Wukan's grievances concerning land sales, corruption, and fraudulent elections.
However, two months of negotiations failed to reach a resolution that satisfied the villagers. In their eyes, the three task forces sent by the town and city governments—in charge of land, finance, and elections respectively—did not conduct a genuine audit of land transactions and financial records. Chen Runji, the deputy party secretary appointed by the town government, was found to have family ties with a land development manager at Country Garden. This was a property development company involved in the suspected Wukan land grab, which the villagers found unacceptable.
After numerous rounds of failed talks, the provisional council mobilised another mass petition. On 21 November, more than 5,000 villagers assembled at the Lufeng City government building in Donghai Town for a peaceful protest (see iSunAffairs Issue No. 8, "Uprising in Wukan" and "The 'Hotblooded Youth' of Wukan" for more coverage).
While peaceful, the protest was nevertheless bold and dynamic. It drew the attention of media outlets that sent reporters to Wukan. Residents still felt optimistic that their voices would be heard by the central government if the media reported the truth. In the words of local resident Zhuang Songkun, "The central government takes care of the people, it's the local officials who've lied to the central government about their misdeeds. The central government is our protector."
Roughly a week later, the city and town governments began a heavy-handed crackdown to "maintain stability."
On 3 December, Zhuang Liehong, the 28-year-old son of Zhuang Songkun, was abducted by plainclothes police while attending a friend's wedding in Shunde District, Foshan City. This was soon followed by the abductions of Zeng Zhanliang, Xue Jinbo, Zhang Jiancheng, and Hong Ruichao, all of whom had been active in village assemblies and meetings. Additionally, Xue was one of the 13 popularly elected council members and had strong support from the villagers–which led him to serve as the council's deputy chairman.
According to the authorities in Lufeng City, these people were criminal suspects for "malicious damage" and "obstruction of official duties" during the 21 September protest. A public notice issued by the Shanwei City Government on 9 December further gave the incident political undertones, with Shanwei party secretary Zheng Yanxiong accusing "people from the outside" and "foreign agents" as "agitators" who "perverted the nature of things." He also labelled Wukan's provisional representative council as an "illegal organisation" and called for a crackdown in the name of "fighting organised crime."
This was all too familiar rhetoric from government officials and seemed to foreshadow brutal retaliation from the authorities. Yet on 11 December, things took an outrageous turn.
On that day, the government notified Xue Jinbo's wife, then 47 years old, and his daughter that Xue had suddenly died, a mere two days after he was secretly abducted at noon on 9 December.
The official cause of death was "sudden heart failure," which was strongly refuted by Xue's family. The eldest daughter, Xue Jianwan, insisted that his father had no history of cardiac disease. The Shanwei Public Security Bureau showed Xinhua News Agency reporters medical records obtained from Xue's family, which showed that Xue suffered from acid reflux, asthma, chronic gastritis and rhinitis–but no heart ailments.
The local Shanwei TV station broadcast an interview with Wang Daoliang, director of the emergency room at Shanwei Yihui Foundation Hospital, who claimed to have been involved in resuscitating Xue. In Wang's words, "The patient's chest, abdomen, and head showed no signs of external injury, no blood, and no bruises." His account further angered Xue's family.
While identifying Xue's body at the morgue, his daughter Xue Jianwan and nephew Xue Ruiqiang saw that his head was swollen. His chest, back, arms, and feet all had visible injuries and bruises. During the process, minders forbid them from taking their phones inside or taking photos. Xue's family was convinced that he had been tortured, and they questioned the real cause of death.
The prosecutor's office in Shanwei commissioned the forensic science centre at Sun Yat-sen University to examine the body. Their report said that the body had large patches of postmortem lividity, but no conspicuous wounds. The report failed to mention Xue's head, only that Xue showed signs of sudden death, but a full autopsy would be required to determine the true cause of death.
For the villagers it was simple: he went in alive but came out dead. Furthermore, Xue Jinbo was one of the village's 13 representatives, popularly elected by its 47 family clans and 13,000 residents, and he served as the deputy chairman of the representative council. His death meant that the government aimed to stamp out the village's collective will, and thus led to even more resistance.
This resistance was partially out of fear, but also out of anger.
Cries of resistance
The death of Xue Jinbo led the families of the other four abducted villagers to worry about their safety, and the village to worry about the rest of the council representatives, who were said to have been "blacklisted" for arrest by the authorities.
"Yang Semao is the one who's now in greatest danger, also old Mr Lin and Zhang Jianxing aren't safe either," a villager said. "Now everyone knows, you go in alive but you'll come out dead!"
Yang Semao is the chairman of the provisional representative council, and he is in the prime of his life. The 67-year-old Lin Zuluan is in charge of proceedings in the village, while Zhang Jianxing, 20, is one of the "hotblooded youths" tasked with coordinating "internal security," and would often be seen recording footage with a video camera and walkie-talkie in hand. For the first two months, grassroots efforts exemplified by the forces of the council, old Mr Lin, and the hotblooded youths kept the village running.
When talking to iSunAffairs, many villagers were keen to stress that they weren't just a "fringe group." These included brothers Li Junhong and Li Junhao; Cai Yifeng and his son; Lin Yuanzhi, who returned from Guangzhou specifically to lend his support; Chen Suzhuan, who openly cried at memorial services; and the barely educated Hong Peixing. Resident after resident repeatedly emphasised that "Xue Jinbo and the others are innocent" and "this is the collective will of the entire village." They were all willing to go on record with their names, because "we have done nothing wrong."
The unity seen in the village was truly impressive. Because of this unity, everyone who was rumoured to have been "blacklisted" remained in the village, since as Zhang Jianxing notes, "The most dangerous place is the safest place to be, here the villagers will protect us."
By now, entering and leaving Wukan has become increasingly difficult.
A handful of checkpoints have been set up on the roads leading in and out of Wukan by the tactical police units of Lufeng City, and all vehicles are stopped for ID checks in the name of "countering organised crime." Reporters trying to enter the village were turned away, and there were cases of village residents being forcibly dragged from the street to the police office, where they were made to sign a written declaration to distance themselves from "unlawful forces in the village."
In addition to this, the villagers themselves have put up roadblocks at all entry points into the village, to prevent police from coming in and taking people away.
Village residents took me through nearly disused rural dirt roads into Wukan. On the way in, we saw traps that were four or five metres wide on each side and nearly one metre deep, barricades constructed out of immense logs, and tire spikes made from steel nails in wooden planks and hidden under a layer of leaves to trap unsuspecting vehicles. At each barricade stood villagers on guard with gongs and the occasional walkie-talkie, taking shifts to maintain a 24-hour presence, and still as organised as they were when they began protesting in November.
Whenever an unfamiliar outsider attempted to intrude, they would alert the village by banging loudly on their gongs. The council and hotblooded youths still kept their operations, except that now their focus had shifted from mass petitioning to self-defence. Villagers on guard duty said that they had voluntarily come "to protect Wukan."
"They really can't take anyone away now. If only a few of them come in, they won't be able to get out if they kidnap anyone; if lots of them come in, they risk a fight with the villagers," said Zhang Jianxing. Now the villagers only needed to protect themselves from "moles."
The villagers believe a tipoff from a mole was what led to Xue Jinbo's capture. When he was abducted in a restaurant on 9 December, his captors were not uniformed police, but rather regular youngsters. Lin Zuluan, who was a villagers' committee official in the 1960s, headed the Donghai Development Zone in the 1970s, and later entered the world of business, informs me that he is certain this was the case: "From a long time ago, village, town, and city officials bought a bunch of people to be their henchmen in the village to protect their interests. They even tried to recruit me, so that's how I know."
After Xue Jinbo's death, the daily villagers' assembly became a memorial service. Every day at 3 p.m., the council would call the villagers to the square in front of the old cinema, where chairman Yang Semao would announce the latest proceedings, after which there would be three minutes of silence for Xue Jinbo.
Each day, up to a thousand people would gather here. Some brought placards airing their grievances, such as "Democratic petitions have become illegal assemblies" and "Blood for blood." After three minutes of silence, a thousand voices joined in chanting: "Xue Jinbo is innocent!" and "The central government must bring us justice! The central government must help Wukan!" Many villagers come dressed in traditional funeral garments, and wail and cry on their knees. This daily gathering began on 12 December, and at the time of reporting and publication has continued every day.
Next to the square is the old villagers' committee building, where funeral laments are broadcast on loudspeakers. Now covered in white flowers, obituaries for the "righteous" Xue Jinbo, and slogans written by the villagers, the building has become a display of the people's will.
In all four cardinal directions on the road near the committee building, every ten or so metres, a white banner with black ink spans the width of the road: "Petty village officials destroyed the village by selling 6000 acres of land," "19 years of official corruption," "News professionals, uphold moral standards and tell the truth," "We are responsible for protecting our farmland," and "We demand democratic elections."
After Xue Jinbo's death, the number of banners only increased. Even before the old ones were taken down, new ones quickly sprang up. Opposite the committee building were two horizontal banners: "Democratic elections are what the people want," and "The people of Wukan will never compromise, we will fight to the death for our farmland." To these were quickly added another two, hung up even before their ink had dried: "Central government, please help the people of Wukan!" and "The people of Wukan are innocent!"
Many villagers call these events a "revolution," remarking, "We are overthrowing a corrupt village government, Xue Jinbo is a martyr for our cause."
The younger generation in Wukan signed up for new accounts on Weibo and QQ, using the internet to post news and messages directly from Wukan. Photos of Xue Jinbo, photos of the village mourning his death, and calls for villagers who left for jobs outside to return and help—these were all spread through social media networks.
"We're waging a war on the news front," says Xue Jinbo's 15-year-old nephew, who would stay up late every night to track what the censored official news outlets said, and counter the official narrative with what he saw as the truth in Wukan. If an internet account got deleted, he would continue with another account. He believed that if more and more people saw the truth, and if the central government saw the truth, there would be hope for Wukan.
Clans and Self-Rule
Of the 47 surnames found in Wukan, Xue was the most common, followed by Sun. Traditionally, these two surnames were viewed as part of the same family. In the local dialect, the surname Xue is pronounced the same as the word for "snow," while the surname Sun sounds like "frost." In council chairman Yang Semao's words, both snow and frost are cold, and locally the two clans have often intermarried, so for the past four centuries the two clans in Wukan have been one and the same: "Xue and Sun belong to the same family, and with more than 1,000 people between them, they hold the most sway in the village."
Clan kinship has long been a main driving force, both in politics and in civilian business, in Guangdong's Chaozhou and Shantou regions. In Wukan, aside from the already strong ties owing to kinship, land injustices have brought villagers together for their mutual benefit. Under wise counsel, this has been directed into a reasonable and just political cause: local self-rule through a democratically elected government. Because of this, ever since the final days of their mass petitions, the villagers started placing "fair and transparent local elections" at the forefront, surpassing their demand to take back their land.
In their opinion, a party secretary assigned to the village and a villagers' committee chairman who would only sell out to businessmen, would not represent their interests in negotiations and not safeguard their fundamental rights. The popularly elected representative council, chosen from among the village's 47 clans, was held in higher esteem than the villagers' committee in the day-to-day running of the village.
The election of representatives, the formation of the provisional council, and the implementation of self-rule, all began after the villagers' committee was chased away in the events of 21 September.
After the violent confrontation between villagers and the police, Yang Semao, who had been away for business and had just returned to the village some six months prior, was the first to call on 23 September for people to represent the village in negotiations with the town and city leadership. What Yang did was nothing sophisticated: he simply stood with a megaphone on the square next to the committee building and called for two days. By the second day, a total of 15 people volunteered to serve as representatives. They went off to meet with town and city leaders at the Nanhai Mansion.
As Yang recalls, all major town and city officials went to that meeting. Qiu Jinxiong, executive vice mayor of Lufeng City, acknowledged them as representatives of the village, assigned Zhu Maoquan as a negotiator, and promised a monthly stipend for each village representative. Two months later, on the morning of 20 November, village council accountant Sun Wenliang went to the office of Donghai Town party secretary Huang Xiong, located in Donghai's economic development zone. They claimed the stipend for each of the 12 council representatives at the time. Each representative was given 2,000 yuan, for a total of 24,000 yuan.
"Mayor Qiu already acknowledged us, and each representative received a salary paid by the town government. How could they say the provisional council is an illegal organisation?" asked Yang Semao.
The representatives in that 24 September meeting were not elected; rather, they went because someone standing in the village square asked them to. To better reflect public opinion, and for better legitimacy, respected village elders Wu Tang'an and Lin Zuluan took charge of Wukan's first-ever election for village representatives. It was held on the stage of one of the village temples from 9 a.m. on September 29.
Candidates were nominated by the 47 clans, with each clan nominating one to five candidates based on their size. Yang Semao explains that each clan in Wukan already had their own councils to take care of weddings and funerals in their family, and to help resolve conflicts. This has long been the tradition, so having them nominate candidates was a natural choice, and was highly efficient as well, since each clan could take care of internal affairs on its own.
The clans eventually nominated 117 electors who would cast votes. From these electors, a total of 38 council candidates were selected (one per surname). The 117 electors then cast their votes to choose 13 representatives from the 38 candidates.
Xue Jinbo, then 47, won the fourth most votes with 63 and became deputy chairman of the council. Yang Semao won the most votes with 78 and became council chairman.
This was the first-ever representative democratic election in village history. It arose spontaneously out of grassroots efforts, and the entire process was accountable.
The council's mission was to both oversee and follow higher levels of government. However, as Yang Semao emphatically stated to Qiu Jinxiong on multiple occasions, "Village interests always come first, following the government comes second." The council presented their three main demands to the town and city governments: an inspection of land deals, an audit of village finances, and the recall of the villagers' committee. Yet according to Yang, even after countless rounds of negotiations, all the government gave him was a list of the members of the fifth villagers' committee, which he received in February this year.
The provisionary representative council's offices are located behind the stage of the village's Sea Goddess temple and have been staffed every day since 29 September. Yang noted that although the council does not hold regular meetings, its five to six main members go to the office every day, and they call for a village assembly as soon as anything urgent occurs.
Their day-to-day job is to collect public opinions, gather evidence of illegal land transactions, inform villagers how to protect their rights, and communicate with the government once every seven days. Xue Jinbo was one of their most active core members. Yang sadly states that after Xue's death, he had to find three people to cover the work Xue had done alone.
The council is also in charge of handling the funds donated by the villagers in the two donation drives, one for medical treatment for those injured in the 21 September incident, and one for funding the mass petitions. Financial reports are regularly issued.
According to Sun Wenliang, the council's accountant, the council has received a total of 185,557 yuan in donations for mass petition funds up until 8 December. Each donation is registered by name, and the list of donations is regularly posted to the village's bulletin board, much like how donations to the village temple are regularly posted on a public list. On 10 October, the council posted its initial financial report, which stated it had spent a total of 72,138 yuan, with each expense written on a large piece of red paper and posted on the bulletin board. The second financial report was originally due on 12 December, but it was postponed because of the abduction.
"The government claims there's foreign interference, but look at the donations, did any one of them come from abroad? These are just 10 yuan, 50 yuan, 100 yuan bills, it's all just loose change," says Sun Wenliang.
Finally, the council's biggest task since its inception was the village assembly on 21 November, which grew to become a mass petition. The hotblooded youths provided their labour, the council served as organisers, and Lin Zuluan served as its leader. (See previous issue for coverage.) It was the perfect protest rally: peaceful, impressive, and rational. A villager who wished to remain anonymous said that he spent 3,900 of his own money to buy flags from Beijing, ordering a total of 2,500 small national flags, 6 mid-sized ones, and one large flag, as well as a party flag: "When the people of Wukan emerge victorious, the village will become a sea of flags."
Little did they know that Wukan would have to pay in blood.
Even though the provisional representative council has been labelled an "illegal organisation" ever since the government began mobilising to "maintain stability," the council has continued its operations. Qiu Jinxiong, executive vice mayor of Lufeng City, still has frequent daily phone calls with council chairman Yang Semao, "at least seven or eight times a day." Even within the hour I spent interviewing Yang, he answered two calls from the mayor of Lufeng City and another call from a member of the standing committee of the Lufeng City Party Committee.
Yang said, "For their part, they want me to tell the villagers to stop making a fuss, and I tell them what they need to do. The government keeps saying that they need time, but we've already lost lives here."
In the council office hangs a colourful banner, painted by elementary and middle school students on strike. They protest that Wukan is innocent, and they will hold another petition rally someday.
On 5 December, Lufeng City assigned a new party secretary to Wukan, none other than Zhu Maoquan, former deputy mayor of Donghai Town, and former negotiator between Wukan and the town and city leadership. When Zhu Maoquan appeared in the derelict villagers' committee building, an angry mob of villagers surrounded him, much like how they treated his predecessor, the acting village party secretary Chen Shunyi. Ironically, it was Xue Jinbo who came to Zhu's rescue, telling the villagers to let this newly assigned party official "have a chance at his job."
Zhu Maoquan hooked up the committee building's large speakers, and for two days straight broadcast news of the national campaign against organised crime, and how the city government intended to deal with the villagers' demands. Merely one week later, the speakers switched to broadcast funeral music, and have never stopped since.
(Editor's note: Coverage of events in Wukan will continue in future issues)
Wukan: A profile
Wukan is located in Donghai Town, Lufeng City, which is a prefecture-level city under the administration of Shanwei City, Guangdong province. With a population of roughly 13,000, the village has been named "the first village of Shanwei" because of its spectacular scenery. Wukan's geographic location as a natural harbour has made it one of Guangdong's major customs ports since the Qing dynasty, with a thriving industry in foreign trade. In recent years, Wukan has become one of Guangdong's "model villages," being situated in a region designated for economic development projects. On 21 November 1927, Lufeng City (then known as Lufeng Prefecture), in which Wukan is located, was the site of China's first Soviet council administration. In recent years, more than 3,200 acres of village land were sold to developers without residents' knowledge, with the villagers receiving little if any compensation. After multiple petitions to higher authorities ended fruitless, on 21 September 2011, some 3,000 villagers began protesting at the land development site, the villagers' committee building, and the city government building, with protests continuing to this day.