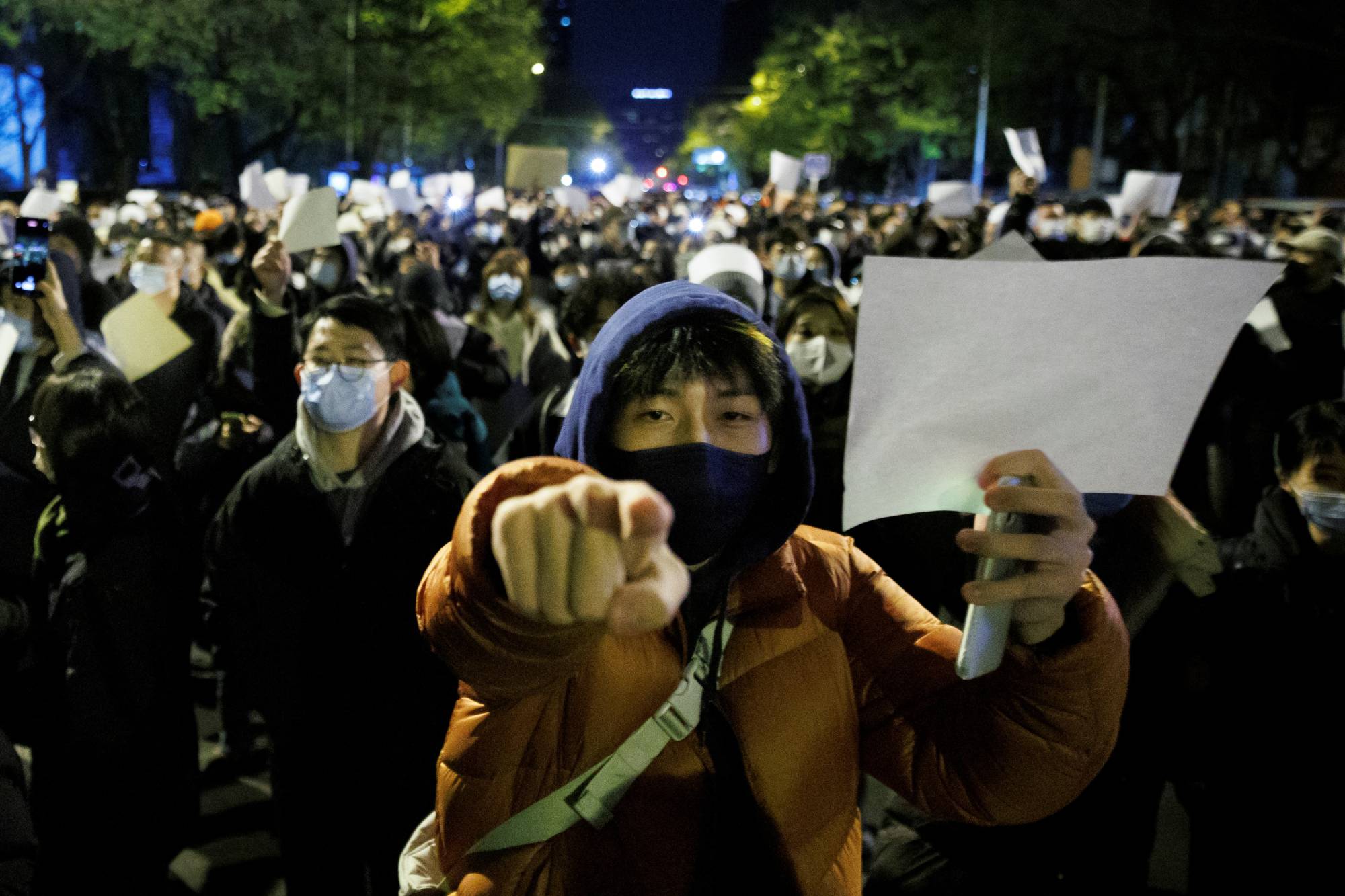 In November 2022, a building fire in Urumqi killed 10 people and wounded nine. Due to Covid-19 protocols, firefighters had allegedly been unable to reach the building in time. The event was the final straw for Chinese frustrated with their government's pandemic restrictions and protests and vigils began to emerge spontaneously across the country. Those who attended came with a simple A4-size piece of white paper, symbolising their inability to express themselves under government censorship, and which gave the social unrest a name — the "A4 Revolution" or the "White Paper Movement."
This story follows a group of four female friends who were arrested for their participation in the demonstrations. Using narrative prose interspersed with interviews with friends and family, independent Chinese journalist Su Nian (a pseudonym) paints a picture of the underground bar and music scene in Beijing's hutongs where these hipster "half-activists" thrived. Although the article is blocked in China, the report offered the international community an exclusive in-depth look into the lives and backgrounds of those arrested after the vigils, why they chose to act, and the loss felt in their communities.
About Initium Media
Initium Media is an independent Chinese-language media website specialising in analysis, in-depth reporting, and investigative reports on China, Hong Kong, and Taiwan. The outlet is known for its often critical coverage, earning it numerous awards from Society Of Publishers in Asia (SOPA) and other organisations for reporting on topics such as the Hong Kong protests or the "White Paper Movement." Originally based in Hong Kong, the media moved its headquarters to Singapore in 2021 due to fears of legal harassment under the Hong Kong National Security Law adopted the year before. Initium's website and app are blocked in China. In 2020, it had over 50,000 paying members from all over the world, with a majority of readers based in Hong Kong and Taiwan.
This story was reported in collaboration with NGOCN, a China-based independent media that aims to bring suppressed news coverage on topics like human rights issues and the environment to Chinese audiences.
Arrested for White Paper Protests: Who were these women, and what did they go through?
investigate report by Su Nian from NGOCN, Initium Media, 2023
The date was 20 January 2023, the day before Chinese New Year. This was the day when Cao Zhixin, 27, first met her lawyer, after 29 days of confinement.
It was in a meeting room in the Chaoyang District Detention Centre in Beijing. She wore the detention centre's "standard issue" attire of a mustard yellow cotton top and grey cotton pants. Per normal procedure, the meeting only lasted 40 minutes.
"She was very determined," said an unnamed source.
Late in the previous night, sometime after 23:00 on 19 January Beijing time, several detainees in the Chaoyang District Detention Centre arrested for attending the "Liangma River Memorial Event" were released on bail, including the reporter Yang Liu, Qin Ziyi, and numerous others. Yet Cao Zhixin was not among them—she and her close friends Li Yuanjing, Zhai Dengrui, and Li Siqi, all roughly the same age, had their arrests officially approved, with their charges changed from "gathering to disrupt public order" to "picking quarrels and provoking trouble."
According to an unnamed source, at least 20 detainees had their arrests approved that night, all of whom took part in the event held at Beijing's Liangma Bridge on 27 November 2022, in part in remembrance of those deceased, in part to protest Covid lockdowns.
Sources said Cao Zhixin was dismayed when she learned of her arrest: She had never thought that taking part in a simple memorial event could lead to such severe consequences. When she received messages from her family and boyfriend asking how she was, she could no longer hold back her tears.
Before she met with her lawyer, she had no idea that the video she recorded before she was arrested had now been seen around the world. In that video, where she called for help out of a pressing fear of "being disappeared," she pointedly asked, "We young people are just mourning our own countrymen, why do we need to be disappeared? Why the heavy price? How did we become just another job that someone had to deal with?"
Her lawyer had submitted a request for bail on 9 January, which was denied. This was followed on 17 January by an opinion letter to the prosecutors' office, arguing against the approval of her arrest, which noted that she merely "attended a spontaneous public memorial event, which does not constitute a crime." However, this opinion letter was dismissed.
Zhai Dengrui, 27, was one of the other young women arrested on the same day as Cao; unlike Cao, however, she was unable to meet with her lawyer before Chinese New Year, and the many approval procedures and last-minute "unforeseen circumstances" meant that scheduling any sort of meeting was incredibly difficult.
Before her confinement, the literature and theatre-loving Zhai had applied to study in the drama graduate program at the University of Oslo in Norway, for which she had spent a long time preparing. Her family had intended to ask for her online password when she met with her lawyer, so they could apply on her behalf, but since the meeting was repeatedly postponed, the deadline had now unfortunately passed.
Li Yuanjing, one of the other detained women, studied in Australia after graduating from Nankai University in the city of Tianjin, and now worked as a full-time accountant, which made her "the richest one among them." Li Siqi, meanwhile, loved to read and write, calling herself a "freedomless freelance writer." As she was a graduate of Goldsmiths, University of London, on 28 January 2023 the college issued a statement in her support.
Before being apprehended, these four young women, all close friends of the same age, lived in the old quarter of Beijing near the drum tower, an area famed for its narrow hutong alleyways. They shared the same hipster qualities: They all loved reading, writing, movies, underground music, and exploring public spaces in the niches and fringes of society that harboured a sense of rebelliousness.
Although they cared about social issues, for the most part, they never had a chance to voice their concerns in public. In the words of one of their close friends, Cao Zhixin and her friends were merely "half-activists": They were young people who loved life, "were interested in everything," and wanted to try everything, "but they still kept some distance away from the really biting issues."
The four women all began their university studies in or around 2015, when the already weak Chinese civil society began to suffer an increased stranglehold–an unrelenting pressure that has continued to this day. In the past decade, discussion and activism pertaining to public issues have all but disappeared in Beijing; yet as residents of a city that once hosted a thriving arts scene, they grew up in the few surviving public niches that allowed them to connect to this milieu. One sees in them a hallmark distinct to their generation.
"They have critical minds and the will to act," Ah-tian (not his real name), a friend of Cao Zhixin and Zhai Dengrui, said. Ah-tian left Beijing in September 2022 for doctoral studies; had he been in Beijing that night, he said, he would have gone with them.
"This was bound to happen sooner or later. The extreme lockdown measures in the past three years were just part of it," he said. "As long as there's injustice in this land, there will be resistance."
"If they had more time, they'd be able to shoulder so much more, but now that they've received such harsh punishments just from a single street protest, for them it's ended even before it's begun." As a friend of theirs, Ah-tian laments, he feels inexorable pain.
1. Arrest
On 18 December 2022, the final day of the 2022 World Cup in Qatar, Cao Zhixin travelled to Shanghai from Beijing.
Almost three weeks earlier on 27 November, she and some friends saw an online post for a memorial event for victims of the residential blaze in Ürümqi, so they headed to Liangma Bridge, which was not far away from where they lived. Her boyfriend later remarked, "It was a totally natural thing for her to do."
She brought with her a bunch of flowers and a few snippets of poetry. She posted two pictures on her Weixin account for just her friends to see, which only showed flowers, lines of poems, and other young people standing about.
After they left late in the night, Cao and her friends headed to the bars near the drum tower, returning home in the wee hours of the next morning. Her friend Zhai Dengrui crashed at her place for the night. Meanwhile, Cao's boyfriend, who was studying abroad, was trying frantically to reach her.
Around 11:00 on 29 November, Cao was having a call with her boyfriend, when he heard a commotion on the other end—the police had come for her.
"She's one of those types who never keeps their guard up, she often even leaves her doors unlocked," a friend remarked later. On that day, five or six police officers entered her shack, located by a shared courtyard in one of the alleyways.
She was taken to the nearby Jiaodaokou Police Substation. Chinese law forbids police to hold summoned individuals or uncharged suspects for more than 24 hours, and like most other people detained that day, Cao was released in the early hours of the next morning, but her phone, computer, and iPad were confiscated.
After being released, Cao continued to live life as normal, even though she now felt slightly worried. Ten days after the Liangma Bridge event, on 7 December the Chinese government issued a new set of ten instructions for the pandemic, immediately bringing an end to all lockdown measures. Nearly everyone Cao knew, including Cao herself, got infected and recovered.
The sudden abolishment of pandemic restrictions meant that all across China, people were desperately trying to find help as basic medicines became scarce. In any case, the absurdly harsh "zero-Covid" policies had finally come to an end. The writer Di Ma quipped, "Now the people have won the right to fall ill at home."
These circumstances were the cause of some cautious optimism for Cao and her friends. Irrespective of the outcome, the abolishment of restrictions meant that the government had now acknowledged that those restrictions were a failure, which in turn seemed to mean that their memorial gatherings and protests were blameless.
Before the police took her away a second time, Cao and her close friends discussed what might happen to them.
One of her friends recalled, "Our guess was there'd be a 50% chance that nothing will happen, after all, we were just there to express our condolences as any normal person would. But there might be a 40% chance that those who went there would be administratively detained for a few days. The chance that something serious would happen was only 10%."
In the end, the most unexpected, worst outcome happened.
The final match of the Qatar World Cup took place at midnight on 18 December in China. Cao Zhixin bought fried chicken for the occasion, planning to watch the match with her boyfriend. Yet halfway through the match, Cao suddenly told him that she now had shivers all through her body: She just learned that a number of friends who went to Liangma Bridge that day had been arrested again, including Yang Liu.
"On the one hand, we were overjoyed seeing Messi finally winning a World Cup that night, but on the other hand our hearts felt as bleak as a block of ice," said Cao's boyfriend. The
strange mixture of anger and anxiety turned it into a night he could not forget.
The very next day, Cao Zhixin took the train back to her old home in Hengyang, Hunan Province. "She felt that if she did get arrested, she wanted to be with her family," said a friend.
During the five days she spent at home, Cao's family were unaware that she secretly made a video for her friends to post online in case she was arrested. In the video, we see a beautiful girl in blue clothes, with bright eyes and moderately long hair.
Around noon on 23 December, five or six police officers from Beijing came to her family's home in Hengyang, broke open the door, and took her away.
2. The "drum tower hipsters" living in the alleyways
Cao Zhixin was taken back to Beijing, where she was first held in a detention centre in the city's Pinggu District. On 4 January 2023, she was transferred to the Chaoyang District Detention Centre.
Cao's landlord in Beijing soon phoned her family in Hunan, saying that her lease was now terminated and she had to move out. They could only ask her friends for help, moving her belongings out of the place she rented at 1 Dongwang Hutong in Beijing, in the frigid January air.
A "north-drifter" who came to study in Beijing from her southern home in Hunan, Cao Zhixin was obsessed with the hutong alleyways. After finishing her studies, she resided in the hutong alleys near the ancient drum tower. Prior to her arrest, she lived in a single-room shack that opened to a gated, shared courtyard in one of the hutongs.
A friend recalled that before she moved to her latest lodgings, her first rented space in the hutongs was even smaller: It was an attic built with corrugated sheet metal, "and indoors there was a corner where you couldn't even stand up straight."
Cao graduated from Renmin University of China with a master's degree in history in July 2021. Her specialisation was in environmental history, and her master's thesis was on the city of Changsha in Hunan Province in the late Qing Dynasty. Having read Jane Jacobs' influential The Death and Life of Great American Cities, she was fascinated by the histories of cities and loved to study the contours and daily lives of each city.
"I grew up in Beijing, but I don't like the hutongs. Hutongs are extremely dirty, and you can't find any toilets in them. Most people can't stand them," said one of her friends. "I don't love Beijing as much as she does, but for her and other friends who were arrested this time, they love Beijing for its diversity of cultures, the atmosphere surrounding the lives and livelihoods of everyday people."
The same friend then sighs, "This time around, they've arrested a bunch of young people who love Beijing more than anyone else."
After Cao Zhixin and her boyfriend graduated, he went abroad for further studies, but Cao wanted to find a job first. Cao had long dreamed of working in the publishing industry, and even while she was studying, she interned at Guangxi Normal University Press, Zhonghua Book Company, and other renowned publishing houses.
In her boyfriend's eyes, this was all because she loved to read and write. Moreover, the job market holds few opportunities for people with a history degree; most of their classmates either turned to the civil service exam, switched to work as publicists in national or private enterprises, or took up teaching positions in middle and high schools. None of these seemed to interest her.
They both knew, however, that the publishing industry in China was "suffocating": Many publishers were under financial strain, which only added to the already considerable difficulties that young people living in Beijing had to face.
Ultimately she stayed at Peking University Press due to her impeccable performance as an intern. Now a full-time employee, she continued to put all her effort into her work. On the Chinese video-sharing site Bilibili, one can still find a nearly hour-long video of her introducing L. S. Stavrianos' book A Global History: From Prehistory to the 21st Century. At the time she was a new employee at Peking University Press, joining the staff just in time for the book's promotional campaign.
"She's very bright, her teachers were all fond of her. She has academic abilities, in addition to her sharp and critical mind. I've always hoped she'd get the chance to study abroad," said her boyfriend. Many of her friends had in fact studied abroad, and she wanted to follow in their footsteps.
Cao's family lives in Hengyang, Hunan Province, where both her parents work as civil servants, as do most of her other family members. Yet as she continued her studies, she gradually grew to become someone her family could not understand.
She met her boyfriend in 2018 at a movie screening, and they began a relationship the next year. Both of them were graduate students in history. When her boyfriend graduated with his master's degree, and headed abroad for further studies in 2021, the two had to continue their relationship over long distances. They would call each other every day: Sometimes they would turn on their webcams but say nothing, instead simply carrying on doing their tasks; other times she would sing and play the ukulele. With their relationship going steady, he hoped that when they finally met again, they would consider getting married.
3. The "interesting" "half-activists"
In the eyes of her closest, most acquainted friends, Cao Zhixin was no political activist, but rather an interesting young woman who liked to do some interesting stuff: "She was just too young. She'd just graduated from school, everything was just beginning for her, and she hadn't had the chance to actually do anything."
Like most of the others who went to Liangma Bridge that night, Cao had never been to a protest or rally. As a friend recalls, "After the protests in Shanghai the day before, there was a sense of optimism that day in Beijing. Many people at the protest site didn't even wear masks."
In her boyfriend's words, prior to these events Cao and her friends had never been politically active, nor had they really spoken out against anything. Some of them had never even left any public opinions before, whether in person or online.
"But she's such an interesting person," he said. She would even go busking on the street with her friends, even though she was far from a professional singer—for them, it was just some nonsensical fun to get everyone laughing. "These were some really wacky friends."
In his view, Cao and other friends who were arrested were merely "half-activists" who took part in normal stuff like movie screenings and study groups. Even though these events often centred on issues like feminism, the environment, and families, these topics were definitely not regarded as out-of-bounds in China.
For the most part, her circle of friends only started to take shape about a year ago, since all of them had just graduated from school some two years prior.
One of her friends, Cao Yuan, also studied at Renmin University, but in the sociology department. They first met during a screening at a film festival: "We passed each other by on the street a few times. Back at Renmin University, we bumped into each other at the cafeteria, and we started to get to know each other."
Cao Yuan served as an editor for a public internet account dedicated to anthropology; in addition, she shared the same interests as others in the circle, from literature, the arts, and movies, to feminism, ecology, and political freedom. On 6 January 2023, the police took her away.
Like Cao Zhixin, Cao Yuan and most of her friends lived in or near the hutongs. Peng Peng (not her real name) said, "For many young people who've become used to the good life, living in hutongs means you don't have a toilet, and your neighbours are all gig economy delivery men. Most other people wouldn't be able to stand such surroundings. But we're people who want to be down-to-earth."
Peng Peng is another one of their friends. She said, "For the most part, my friends all share the same vibe. In their daily lives, they will try to push back in what small ways they can." This often happens when they are confronted with gender identity issues, and when they encounter injustices that everyone can see.
Liangma Bridge, the focus of the incident, was already popular with people of their age. The river used to be heavily polluted, but after a clean-up project in 2019, the area was transformed into a welcoming metropolitan park. In addition, the area was home to many foreign embassies, and the high concentration of different cultures and cuisines became a draw for many curious young minds, who would flock there for Middle Eastern, North African, and Indian food.
However much the cityscape changed, though, nothing could hide the fact that the political climate has grown increasingly oppressive. In recent years, China has no longer tried to hide its efforts to suppress free speech, with issue upon issue becoming taboo in the media and in schools. This has only gotten worse during the three years of pandemic controls and lockdowns. One of their friends said that even though they had discussions after every gathering or movie screening, everyone "felt at a loss. We did discuss things, but nobody knew what to do."
The group of friends would sometimes head out together to hike in the countryside. Cao Zhixin liked little animals and was concerned about the environment. She had been to the Hongshan Zoo in Nanjing with her boyfriend before; not long before her arrest, she had even "adopted" a young wild boar in the zoo, donating a few hundred CNY each year to give it "extra servings each meal."
4. Bars, underground music, and unspoken, niche public spaces
May 2018 marked the 50th anniversary of the May 68 protests in France.
On 11 May, a literature reading event took place at the 706 Youth Space near Beijing's Wudaokou neighbourhood, an area with a large student population due to its proximity to multiple universities. The venue, an apartment located on the 20th floor of a public housing complex and converted into a small library, was crammed full of people for the event, one of a series of gatherings to commemorate the May 68 protests.
The event featured readings from essays and poems. A black T-shirt with words written in white hung in the venue: "We go round and round in the night, consumed by fire," a translation of the title of Guy Debord's documentary In girum imus nocte et consumimur igni.
One of the people at the event was Qin Ziyi (one of the White Paper protestors released on bail on 19 January 2023). She later became friends with a few other attendees that day.
706 Youth Space was founded in 2012 by a handful of young people, as a utopian self-governed forum for people to meet, study, and make friends, something that has now become virtually impossible to sustain in Beijing. This was where Zhai Dengrui and Li Siqi met and became friends.
In the 1990s, China saw the development of its market economy, the spread of liberal thought, and the awakening of civil society and civil rights. With the rapid expansion of the internet at the turn of the millennium, Beijing saw a blossoming of public spaces, both online and physical, where people could engage in open discussion. This was the heyday of literary venues like Sanwei Bookstore and All Sages Books. For a brief period of time, Beijing had a vibrant public sphere.
When Peng Peng came to Beijing for university, however, the post-2012 "new era" had already begun, and most public spaces had now dwindled away due to the suppressive environment. 706 Youth Space continued to exist in the nooks and crannies. During the time when Peng Peng and her friends frequented the place, "everyone there was extremely sensitive to any kind of injustice or inequality."
Peng Peng often went to the One Way Street Library and the now-dwindling All Sages Books. By contrast, most young people went to bars that played underground music or live houses. Cao Zhixin was one of these young people: She liked more traditional, folk-style music, like the new wave band New Pants, and the Taiwanese singer Deserts Chang. "She also likes underground music, just not the more intense kinds," said her boyfriend.
Peng Peng also liked underground music. As she recalls how she met her friends, she brings up a tiny bar in a hutong called "Pause." The bar is now gone, but when it still existed, one could peek through a glass window in a narrow hutong and see the entirety of its 10-square-metre interior.
Just 10 square metres — this must have been the tiniest bar in the world. As many of her friends recall, though, this was a bar frequented by much of the "progressive youth."
When workers at Jasic Technology in Shenzhen went on strike in 2018 to protest for their right to unionise, students from Peking University went to the protest site to show solidarity and support. The incident left a substantial impression on many young people, labelled as "leftists" by those who have been observing young intellectuals in China.
Peng Peng and her friends used to frequent this bar. As she recalls, the nights were extremely cold, but since the bar was so small, sometimes they could only stand outside. When they chatted outside in the freezing winter wind, the bar would give them trench coats to keep out the cold.
The bar often hosted acoustic, "unplugged" performances. On a particular night when there was a power cut, a band named Kaleidoscope took the stage with improvised music. Another video shows the band playing on a rooftop in the hutong: They played in the blindingly piercing winter afternoon sun, under clear blue skies and howling winds, until darkness fell and they wrapped themselves in blankets to fight the cold.
Bars like this on the fringes of Beijing were more than the foci of the city's youthful artistic vibes; more importantly, these were public spaces for young people to gather and find like-minded friends, to search for freedom in a country where surveillance had become increasingly tight.
These "cheap, amateurish" little bars nevertheless drew in many musicians and artists, who in turn drew in many young followers. In print and broadcast interviews, the bar's owner remarked: "Opening a bar is, in itself, not what we wanted to do the most. Like I said, everyone needs to go through a process of self-discovery. There is a utopian atmosphere in our bar, and those who are drawn in are all good comrades."
"I've always wondered what it means to open a tiny bar in a hutong. Society doesn't allow people to experiment in the name of idealism, but I hope that I can help someone —anyone— to do this while I'm still young and able." This seems to encapsulate the spirit of these tiny bars.
As far as this circle of friends knew, there were quite a few other eccentric little bars like this in Beijing. For example, in 2019 a bar popped up, sold 2,019 glasses of drinks, and then promptly shut down after two months.
In addition to these bars, the region surrounding the ancient drum tower was home to many live house venues. This was where Cao Zhixin and her friends loved to hang out the most: An area covering less than five square kilometres, stretching to the main street outside Di'anmen to the west, Dongsi District to the southeast, and Yonghe Temple to the north, all within Beijing's 2nd Ring Road. This was where Beijing's live house venues were concentrated, within the handful of wide roads and countless narrow hutongs.
A social circle grew out of the music centred in the area, with many young people coming here to listen to live bands. In addition, with China's Central Academy of Drama located not far away, the area was also home to many video production and media companies. This group of friends would often go to performances at "Jianghu" and other bars noted for hosting live performances.
The region was thus described in a write-up: "In the decade between 2005 and 2015 at least, this was the heart of Beijing's indie music and live house scene. Beijing's most renowned independent musicians flocked here, as did youngsters chasing the latest fashions and freshest new sounds."
On 18 December 2022, reporter Yang Liu and her boyfriend Lin Yun were both arrested for taking part in the Liangma Bridge memorial event. A talented musician himself, Lin Yun had opened a little bar with some friends when he was still a university student, called Bu'er Bistro.
In the words of a friend who used to frequent the bar, the place had a very artsy atmosphere, in a 1980s and '90s Hong Kong style, with many of its cocktails named after songs or places. In contrast with purely commercial, profit-driven bars, Bu'er also hosted poetry readings and movie screenings, as well as live performances. One of her lasting impressions of the place was when the French feminist movie L'Événement was shown there.
This frequent guest first became friends with Yang Liu. As a reporter, Yang had exceptional writing skills. The two first friended each other and chatted online, and became friends after they met in person.
As Peng Peng looks back on this period in time, she believes that she likes Beijing because the city is home to a wide range of groups and clusters. When the municipal government launched its campaign against the city's "low-end population" in 2017, many of the interesting spaces inside the hutongs were cleared away. The severe pandemic lockdowns and restrictions in the past three years, and the resulting mass exodus has caused many public spaces to wither away and die. Yet Peng Peng believes the city's rich contours still exist, and most importantly her community of friends is still there.
"Our fates are tied together," said another friend in January 2023, as they thought of those who had lost their freedom.
5. "People who approved of activism"
After he learned of Zhai Dengrui's arrest, Ah-tian found out that he and Zhai (nicknamed Deng Deng) were both in several online chat groups, most of which focussed on information relating to the pandemic.
Ah-tian is currently a doctoral student in anthropology, having left Beijing in September 2022, and counts both Cao Zhixin and Zhai Dengrui as his friends. He said, "If I was there, I would have gone with them on the evening of 27 November." He feels his own fate is connected with theirs.

In Ah-tian's words, "Many of those arrested this time around have strong feminist views, but actually they also follow a much wider range of issues. They are all highly empathetic and motivated; whenever they see injustice or inequality, they always take action first and ask questions later." In this sense, he views them as activists first and foremost.
Ah-tian recalls his last conversation with Deng Deng: They had just taken part in an online discussion about "lying flat" in rejection of social pressures. Ah-tian asked Deng Deng, "Are you going to lie flat right now?" She said no; according to Ah-tian, "I think for the most part it's because of financial pressures."
Deng Deng was born into a well-to-do family. After receiving her bachelor's degree at Fujian Normal University, she went on to pursue graduate studies in comparative literature at Beijing Foreign Studies University. Prior to her arrest, she was working as an online tutor. Li Siqi, one of Deng Deng's friends who was also taken under this wave of arrests, once helped Deng Deng write her resumé.
After leaving graduate school, Deng Deng first went into the after-school tutoring industry. When the government announced its Double Reduction Policy, cracking down on the tutoring industry, she switched to selling teaching materials via live streaming. Her friends had a hard time believing this: Deng Deng liked hitting the books and studying more than anything else, so how could she suddenly switch to doing live streams for a living? However, Deng Deng herself had great fun in this new job.
Her friend Xiaoke (not their real name) remembers Deng Deng saying the job provided a great opportunity for field research into parents' minds. Within her wide range of interests, Deng Deng was particularly drawn to drama, which was why she decided to apply for the graduate drama program at the University of Oslo.
In Ah-tian's opinion, all these friends came from relatively well-off families, with family members belonging either fully or partially to the state establishment. This was why after the wave of arrests, it was hard for them to contact their parents since the advice their parents gave was usually to "believe in the government." This also showed that "they didn't have a good rapport with their families."
Ah-tian recalls a trip he and some friends took after Chinese New Year in 2022. A group of four or five of them, all of whom studied social sciences, wanted to visit some non-ferrous metal mining sites in the south of the country. They finally settled on visiting a few sites in Chenzhou, Hunan Province. Cao Zhixin was a member of this group, since her family lived in Hunan. In Ah-tian's words, "She was both extroverted and level-headed. Although she was just out of school, she was really able to connect with the people we talked to." Even though the group did not know each other well before the trip, they found themselves engaging enthusiastically in conversation: "We all had a soft spot for underdeveloped regions."
As Ah-tian sees it, Cao Zhixin specialised in environmental history "because she really cared for the environment." They debated how these non-ferrous metal mines in the south differed from the coal mines in the north: At the very least, the coal mines brought some profit for farmers in the region, but the non-ferrous metals were all in state-owned mines in the south, which meant that locals could not benefit from them.
They were interested in these underdeveloped regions, in studying the history, geography, and environments of the south-but-not-too-south. While surveying these locales, Ah-tian saw that Cao Zhixin was able to talk to people both naturally and with a sense of purpose: "For her, this was purely out of a down-to-earth curiosity, and a genuine concern for society."
They found a "widows' village" near a uranium mine, where the first generation of prospectors all died from pneumoconiosis, and were banished to the bottom of the social hierarchy because of the disease. Even if such tragedies happened in one's hometown, Ah-tian noted, "most people wouldn't want to mind others' business, and wouldn't want to look into it. But she did."
Having always been in school up to this point, in 2020 Ah-tian decided he "wanted to connect with society," and worked as a reporter for a news organisation for half a year. It was Qin Ziyi who helped him find this position.
As Ah-tian sees it, Cao Zhixin, Qin Ziyi, Zhai Dengrui, and others in his circle of friends all feel concerned about the many problems present in China. Some of these friends hope to bring awareness to these issues by highlighting them in the ever-transient news cycle: "They all have an organic mindset when it comes to these issues." He believes these friends, with the youth and vigour they possess, approve of activism: They care about the injustices they face and seek to empower themselves.
"For the most part, they have all been good students who've breezed through each phase of their education, so they've been somewhat disconnected from society," said Ah-tian. In his experience, these so-called "good students," who have never been out of school, may have certain aspects that set them apart from regular society, such as their academic capabilities. Yet certain things might prove to be impactful in their lives, such as certain public spaces, and fieldwork or volunteer work among other social strata. One of Ah-tian's friends produced a first-person written account that grew out of their visits to a retirement home in Shanghai during the pandemic.
"When you start caring about social issues, you'll soon find friends who think alike. You begin to connect to people through online posts and other means." The large number of gatherings in Beijing meant that they could all find some causes—broadly speaking, "injustices in society"—that caught their mutual attention.
Ah-tian believes that for people of his generation, "the movements of 1989" were indeed profound, but ultimately were not injustices that they physically experienced. When people of his generation stand up, they stand not because of some grand ideology, but rather out of a simple sense of justice, and they will try to overcome their fears. "They can overcome the apathy shown by society at large, and they don't give up easily. On the other hand, they are massively inexperienced."
"Living life is important for these women. It's not just being individually involved in social issues, for them it's also more of a subculture thing," noted Ah-tian. However, "this is not a self-contradiction. Most young people don't keep a highly intense focus on social issues. Sometimes it is some random chance that causes them to take action."
"Nowadays in China, you'll get suppressed no matter what you do. But as long as there is injustice, there will be resistance. You start to ask: Why is China such a heartless land? And you'll try to take some sort of action," said Ah-tian.
6. "Lockdowns felt no different from wartime"
These friends held a gathering before winter came in 2022. They had all been separated from each other due to pandemic restrictions; some had not seen each other for even longer.
Young people always have a good time when they meet, but even so, they generally felt "very restrained." The government's "zero Covid" policy began in 2020. By 2022, measures had gotten even more severe. The year began with a monthlong lockdown in Xi'an, followed by Shanghai being locked down for more than two months. All across China, the new norm had now become lockdowns, mandatory PCR tests of entire populations, and citywide "static management" measures announced at the slightest signs of alarm. Being in the midst of it all, they felt the absurdity of it every single day.
"Yuanjing said she once had to stand in line in blistering wind and snow for four hours to get a PCR test," recounts Peng Peng. When these friends met up, they also discussed in private the possibility to "run away" and go abroad, since the situation had become so oppressive.
On 11 May 2022, one of their friends posted on Weibo, "In the Nanmofang Area, officials ordered everyone in the Nanxinyuan community to isolate themselves in dedicated hotels. No one was allowed to stay put, nor was anyone told how long they had to isolate for, or if their houses were entered into for disinfection. Since 8 May all residents have been strictly obeying all the restrictions, everyone has stayed at home for days on end and complied with daily PCR tests. Suddenly taking everyone away for isolation means putting many people in danger. Many residents are either paralysed, heavily pregnant, or have infant children… The residents are all complaining now, pleading with officials to reconsider their policy of complete mandatory removal and isolation."
This Weibo post was a straightforward depiction of what daily life was like for residents of locked-down areas. Xiaoke later found out that Yang Liu had previously criticised the government's lockdown and control policies, and as a result, her landlord had been threatened by police monitoring the internet.
In Xiaoke's opinion, Yang Liu was both a conscientious reporter and a beautiful young girl. She liked writing poetry as much as she liked pretty makeup. Her boyfriend Li Yun would sometimes set her poetry to music. In one of his albums, two songs were specifically written for Yang Liu; one song in particular, titled "Funeral Party," featured lyrics by Yang Liu and vocals by Zhai Dengrui. "It was lovely."
Xiaoke thinks their group of friends are quite talented and have independent minds. As an undergraduate student, Yang Liu originally studied social work at South China Normal University, later heading to Singapore to study for a master's degree in education. She could have stayed in Singapore and led a stable life, but her deep passion for writing led her back to China to become a journalist, since she felt she could not separate herself from the culture that nurtured her. She liked to write down quotes from books she read and tack these snippets onto a board. In these past few years, her writing skills have steadily improved.
The painful absurdity of pandemic controls have been a constant thorn to these tender souls. Xiaoyi (not her real name) remembers a friend named Dalida, who founded the Beijing Mindfulness Centre. Dalida came from the former Yugoslavia to China in the 1990s. Although she was just a teenager then, she had already been through the upheavals of war. After witnessing the tumult of pandemic controls, she said that the lockdowns and the suffering they brought felt no different from wartime.
Upon hearing this, Xiaoyi said she suddenly understood that under these surroundings, she and her friends were basically no different from refugees: "I understood even clearer the situation we're in. Everything we've been through, all the lockdowns we've endured, it has all been a war without gunfire."
Her thoughts turn to Li Yuanjing, the "most apolitical" of these young women: "She'd hang out with us sometimes, even though she was financially better off than us. She was arrested simply because she headed a Telegram group." Born into a well-to-do family, Yuanjing led a carefree lifestyle, and had originally planned to study in France. She was first arrested on 28 November; a timid person by nature, she said after her release that she only had steamed mantou buns to eat, and her feet turned purple from the cold.
Xiaoyi said Yuanjing had sent everyone a message, hoping to celebrate her birthday on 22 December 2022 at Bu'er Bistro. Her arrest meant that her wish was left unfulfilled.
After Cao Zhixin was arrested, the last her friends heard from her came on 16 January. With no more information on her situation, the video she made before her arrest suddenly went viral on the internet. Her boyfriend, feeling overwhelmed by the response, "didn't have the courage to watch the video." He recalls the day when she was arrested for the second time: He had to catch a flight somewhere in the western hemisphere, but a blizzard delayed his flight. When he finally got off the plane, he learned that she had been detained.
Xiaoyi misses her friends. That night, when they headed to Liangma Bridge, they went with their hearts full of compassion. They had no reason to be circumspect.
On 26 January 2023, the fifth day of the Chinese New Year, some of those detained had met with their lawyers, while some were still being held incommunicado.
Bu'er Bistro has reopened, just without this group of old friends for the time being; Lin Yun and Yang Liu have also vanished. However, the bar's treasured little chalkboard is still there.
Bu'er Bistro's originally opened at the drum tower, but when authorities in Beijing cracked down on so-called "holes in the wall"—unauthorised shops and eateries in old buildings and hutongs—the bar relocated to Beijing's Sanlitun bar street for a brief period. It is said that when they moved, they had to tear down the building's original stairway just to take this chalkboard with them.
A few lines of poetry are scribbled on the chalkboard:
Even if, next morning,
Guns and a blood-stained sun
Force me to give up my freedom, my youth, and my pen
I will never give up this night.
An excerpt from the poet Bei Dao's "Rainy Night," written onto the chalkboard the very day the bar first opened in 2014.