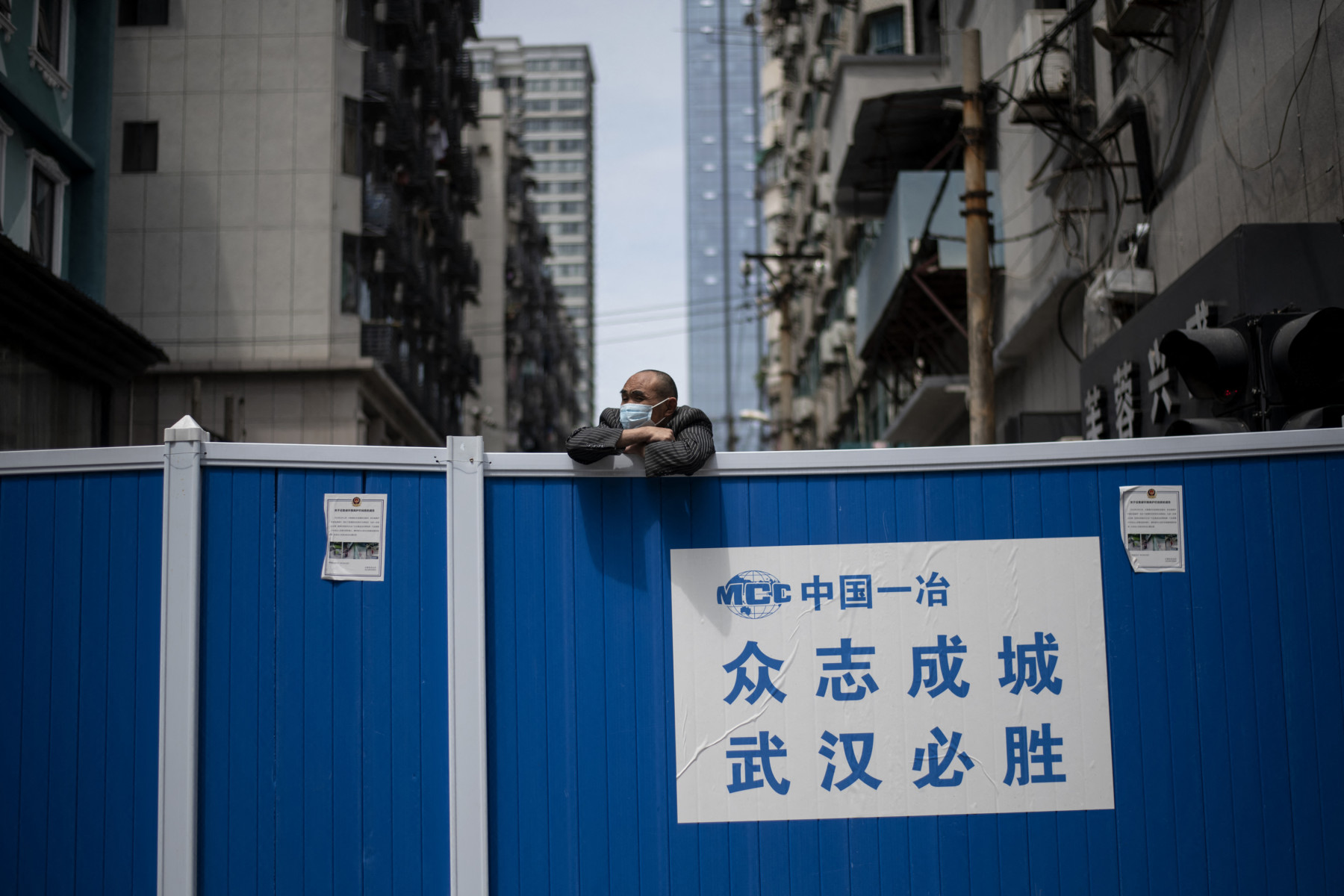 Regret in Wuhan
investigation report by Li Xiangmat, Li Migzi, Peng Danni and Du Wui, 2020
On 31 December 2019, as people in China were preparing for New Year's festivities, a report circulating on the internet put a damper on the joyous mood. This emergency report, with the letterhead and official seal of the Wuhan Municipal Health Commission, called attention to "continual new cases of pneumonia of unknown aetiology at the Huanan Seafood Market in Wuhan City." The news came as a scare to many: Has SARS made a comeback?
A day before the news began circulating, Li Wenliang, a doctor at the Central Hospital of Wuhan, was told by his colleagues that seven patients with SARS had been isolated in the hospital's emergency ward. A little after 5 p.m. that day, Li broke the news in a university classmates' chat group, adding that "describing these cases as SARS is somewhat inaccurate; it is likely a coronavirus of type yet to be determined." In addition to calling for others to be aware of the disease, Li stressed that the news should remain in the chat group. However, a screenshot of the WeChat conversation managed to leak out, and the news that "Huanan Seafood Market has seven diagnosed cases of SARS" was soon all over the internet.
At 1:30 a.m. on 31 December, Li Wenliang received a phone call telling him to report to the Wuhan Municipal Health Commission: "The commission was holding a midnight meeting, most likely to discuss the outbreak. The superintendent and clinical director of our hospital both attended the meeting." After the meeting, the hospital superintendent asked Li where his information came from, and drove him back home at around 4 a.m. During the day, Li was summoned a few times to the hospital's inspection office, where he was questioned multiple times regarding the source of his information and asked if he understood "the mistake of spreading rumours." He was ordered to write a report of self-criticism and reflection on "spreading false news."
That afternoon, the Wuhan Municipal Health Commission issued a bulletin, stating that "multiple cases of pneumonia admitted to several hospitals have been connected to Huanan Seafood Market; to date, a total of 27 patients have been identified, 7 of which are in critical condition." It went on to state that "there are no signs of human-to-human transmission, nor have hospital staff been infected." Meanwhile, the first group of experts from the National Health Commission had arrived in Wuhan that very day.
The bulletin quickly quashed mounting concerns, and people thought they could breathe a sigh of relief as they welcomed the third decade of the 21st century. Little did they know a national epidemic had just begun, and the country would soon be swept by a wave of infections far surpassing SARS, with the World Health Organization designating the disease as a "public health emergency of international concern."
"Cold treatment"
As news first broke on 31 December 2019 of a "mysterious pneumonia" in Wuhan, China Newsweek reporters arriving at the scene at Huanan Seafood Market found that it was still open for business, with very few people wearing face masks. Vendors at the market said that after the news broke, the market had stepped up its disinfecting measures. Located a mere 1 km from Hankou Train Station, Huanan Seafood Market sits in a bustling area at Wuhan's centre. The vast market space, spread across two areas (east and west respectively), is home to more than 600 businesses. Rumours that the ageing market was slated for demolition had long been regularly circulating.
According to a local resident: "The marketplace has always been extremely unclean and disorganised. On the surface, it's a seafood market, but in fact, it sells everything from cats and dogs, to live snakes and softshell turtles, wildfowl and moles, and even specialities like sika deer and live monkeys."
With reporters from all over the country now rushing to the city to cover the story, on 1 January 2020 the Huanan Seafood Market was officially closed for all eyes to see. After the market's closure, Zhang Zuofeng, associate dean of UCLA's Fielding School of Public Health and distinguished professor of epidemiology, noted that according to follow-up reports, the first cases of the novel coronavirus infection at Huanan Seafood Market were discovered on 8 December. If the market was closed within a week of these initial discoveries, and all patients, suspected cases and their contacts were isolated, the situation would never have become so severe. Yet the market was only closed on 1 January 2020, a full 22 days after the first cases were found, during which the virus might have already spread among the local population, thus losing the best opportunities for quickly containing the outbreak.
Also on New Year's Day, the official Weibo account of the Wuhan public security authorities posted, "Some users have been spreading and reposting unverified information on the internet, causing disruption in the society. After investigating the issue, public security officials have summoned 8 individuals for questioning, and dealt with their illegal activities in accordance with the law." Yet roughly three weeks later, the post had been deleted from the account.
On the morning of 3 January, Li Wenliang received a phone call from the police precinct, demanding that he sign a "Letter of Admonition" stating that he illegally disseminated misinformation on the internet. Hospital administrators then verbally instructed him to stop posting relevant information online.
Lin Yu is a doctor at the Union Hospital of Tongji Medical College of Huazhong University of Science and Technology. In his account to China Newsweek, Lin recalls that at the beginning of the epidemic, the authorities in Wuhan had a "cold treatment" policy of de-emphasising and denial. Unless they received permission from relevant authorities, staff at his hospital were forbidden from discussing patients on open forums and platforms, and from interviews with news media. In addition to clinical physicians being under gag orders, the hospital's Infection Control Division and the government's Center for Disease Control were even more tight-lipped: "No one was allowed to say anything." Under such constraints, doctors could only advise their patients to remember "face masks, face masks, buy and wear face masks." Some would half-jokingly tell their patients, "Don't go shopping at the Huanan Seafood market, the stuff there isn't fresh."
Between 6 and 10 January, the Wuhan Municipal Health Commission issued no updates on the outbreak. Meanwhile, municipal and town-level local representatives' plenary sessions were held in Wuhan, from 6 to 10 January and 7 to 10 January respectively.
On 9 January, Xu Jianguo, a fellow at the Chinese Academy of Engineering and head of the expert team sent to evaluate the mystery pneumonia in Wuhan, announced the preliminary results of their assessment: A novel type of coronavirus. According to unnamed sources, in addition to Xu, this first team of experts included Li Xingwang, head researcher at the Research Institute for Infectious Diseases at Beijing Ditan Hospital; and Cao Bin, director of the respiratory and critical diseases divisions at China-Japan Friendship Hospital.
On 11 January, the Wuhan Municipal Health Commission reported a total of 41 diagnosed cases and one death; furthermore, it continued to claim "no uncovered cases of medical personnel becoming infected, nor evidence of human-to-human transmission." In an interview that same day, Wang Guangfa, a member of the national team of medical experts and director of the respiratory and critical diseases division at Peking University First Hospital, told reporters that the situation in Wuhan was "manageable and controllable."
Yet 11 days later, it was revealed that Wang contracted the novel coronavirus in Wuhan, causing him to become the centre of a social media circus. After recovering from the disease, Wang said in an interview on 1 February that the data they had seen at the time only contained the 41 cases in the first report published in The Lancet, none of whom were medical personnel.
Sources told China Newsweek that from 8 to 16 January, containment efforts in Wuhan were led by a second team of experts. In addition to experts in clinical medicine including Wang Guangfa; Jiang Rongmeng, head physician at the second infectious diseases division at Beijing Ditan Hospital; and Gao Zhancheng, head physician of respiratory medicine at Peking University People's Hospital. This second team also included deputy director Feng Zijian, and former deputy chairman Yang Weizhong of the Chinese CDC, both experts in disease control.
Pertaining to these developments was an FAQ on Pneumonia Caused by the Novel Coronavirus issued by the Wuhan Municipal Health Commission in the early hours of 15 January, which marked the first shift in official statements on the transmissibility of the disease: "Although no definitive evidence regarding human-to-human transmission has been found, it cannot be excluded, but the possibility remains low." Also in this FAQ was the first acknowledgement of a husband-and-wife "familial cluster infection," but the wife denied that they had any contact or exposure to the Huanan Seafood Market.
From 12 to 17 January, no new cases were reported in Wuhan, during which the Hubei Provincial Political Consultative Conference and People's Congress met in the city.
Even though Wuhan reported no new infections for several days, cases started popping up abroad during the same period. On 13 January, Thailand reported its first case of pneumonia caused by the Wuhan novel coronavirus. This was followed by Japan's first reported case on 16 January, a Chinese citizen who had been to Wuhan, but not to the Huanan Seafood Market, meaning they might have come into contact with someone who had already been infected. On 17 January, Thailand reported its second confirmed case, a 74-year-old Chinese woman. In response, the US CDC announced that all passengers from Wuhan landing at three major international airports in the US would be screened for the disease.
In the early hours of 18 January, the Wuhan Municipal Health Commission resumed its reporting of new cases, a total of four discovered between 00:00 and 24:00 on 16 January. This was followed by a report in the early hours of 19 January, of 17 new cases confirmed on 17 January. The total number of confirmed cases now stood at 62.
On 18 January, the Baibuting Neighbourhood in Wuhan held a massive banquet for more than 40 thousand families. The banquet was spread across the main lobby and nine neighbouring sites of the local party activity centre and included 13,986 dishes. In response to public criticism of holding the banquet under the circumstances, Wuhan mayor Zhou Xianwang noted, "We held the banquet this year because of our prior assessment that the possibility of human-to-human transmission was limited. This was a lack of awareness."
A scientific race
When the first group of experts arrived in Wuhan on 31 December, a race of science and research had already begun. At 10 p.m. on 30 December, at the Wuhan Institute of Virology, Chinese Academy of Sciences, institute director Shi Zhengli and her team of researchers were commissioned by the Wuhan CDC to inspect some samples collected from patients. By 2 January, they had sequenced the entire genome of the virus, confirming that it was indeed a novel coronavirus. On 5 January, they managed to isolate the virus. On 11 January, under direction from the National Health Commission, they submitted the entire genome sequence to the World Health Organization.
Meanwhile, on 26 December 2019, Zhang Yongzhen, a virology expert at the Chinese CDC and part-time professor at the Shanghai Public Health Clinical Center of Fudan University, and his team of researchers received a sample sent by the Central Hospital of Wuhan and the Wuhan CDC, collected from a patient suffering from a fever of unknown aetiology. On the morning of 5 January, the Chinese CDC detected a novel coronavirus in the sample and sequenced its entire genome using high-throughput sequencing technology. On 10 January, they made the genome sequence public.
Even though which team was the first to isolate the virus might be up for debate, the fact that Chinese scientists were able to isolate the virus so quickly and make the genome public drew unanimous praise worldwide. Compared to the SARS epidemic, where crucial time was lost due to misidentification of the pathogen, this could be seen as a better start.
After information regarding the virus was made public, Chinese scientists raced against each other to produce academic papers. On 21 January, this resulted in two of the nation's leading universities squabbling over who should receive credit for a published paper: Nankai University researcher Gao Shan and his team of researchers published a paper in the leading Chinese-language journal Bioinformatics titled, "A bioinformatics analysis of the 2019 Wuhan virus sequence," which drew the ire of Fudan University's Zhang Yongzhen. Zhang criticised Gao for using data that Zhang had collected and made public, while Gao countered that copyright could not be claimed on public data, meaning that such data is automatically free for anyone to use.
Yet the real public spat came on 29 January, when a paper was published in The New England Journal of Medicine that listed as its corresponding authors Chinese CDC deputy director Feng Zijian and Hubei CDC director Yang Bo, as well as Chinese CDC director and Chinese Academy of Sciences fellow Gao Fu as a co-author.
In their analysis of 425 cases of the novel coronavirus diagnosed before 22 January, the authors note that 55% of the patients who showed symptoms before 1 January 2020 had some connection with the Huanan Seafood Market, yet only 8.6% of patients who fell ill after that date could be connected to the market. This led Zhejiang University professor Wang Liming to comment on Weibo, "Judging from the information in this paper, the CDC already had concrete evidence of human-to-human transmission in early January… So how did this get covered up?"
In less than two hours, Wang's suspicions received tens of thousands of responses and reposts, causing an unprecedented crisis for Gao Fu and the Chinese CDC. Some people noted that Gao, as a virologist, lacked expertise in public health and disease control.
In response, on 31 January Chinese CDC deputy director Feng Zijian explained that after they received the data on 23 January, they used that data for retrospective analysis, and all cases had already been made public before they authored the paper.
According to Eric J. Rubin, chair of the Department of Immunology and Infectious Diseases at the Harvard T. H. Chan School of Public Health and editor-in-chief of The New England Journal of Medicine, the paper in question went from submission to publication in a mere 48 hours. Responding to China Newsweek, Gao Fu said, "I don't want to say anything right now, I just want to get the disease under control. People always swing from one extreme to another, so what more can I say? I'll just try to do my job."
In fact, even before Gao and his co-authors published their paper, numerous other academic papers noted that the disease might have already spread further. In a paper published in The Lancet on 24 January that was co-authored by Huang Chaolin, deputy director of Wuhan Jinyintan Hospital, a designated treatment centre for the disease, the authors revealed that 14 of the 41 initial cases in Wuhan could not be traced to Huanan Seafood Market, and in their opinion the market was not the only origin. The authors also claim that the first patient admitted to Jinyintan Hospital began showing symptoms on 1 December 2019, and could not be traced to Huanan Seafood Market.
This implied that the virus might have infected humans as early as November 2019, first spreading among the local population, and finally exploding in a cluster at Huanan Seafood Market in late December.
In a possibly incomplete tally of academic papers, by the end of January, Chinese scientists had published six papers on the novel coronavirus in The Lancet and The New England Journal of Medicine. In Zhang Zuofeng's opinion, the scientific research surrounding this disease was of the highest standard, leading to academic papers rapidly being published in numerous leading journals.
On 30 January, the Ministry of Science and Technology issued a statement: "All research units and personnel must put the interest of the nation and the people as their top priority. They should write their academic papers 'for the motherland' and apply the results of their studies to disease control efforts. Before they complete their mission of disease control, they should not waste their energy on publishing papers."
In hindsight, although scientific research produced meaningful data and conclusions, these were not promptly released to the public, nor were they applied in control efforts. What part of the government's decision process fell short of expectations? This remains a mystery.
The role of disease control
Also mysterious is the role that disease control authorities played in the decision process.
The SARS epidemic revealed major flaws in the disease monitoring system, leading to its overhaul in 2004. In an interview with China Newsweek, then-Chinese CDC deputy chairman Yang Gonghuan described the web-based direct report system as "all-encompassing both horizontally and vertically," reaching all corners of the country lengthwise, and vertically integrated so that "even computers in rural health centres can access the system." As soon as a case of infectious disease—including pneumonia of unknown aetiology—is diagnosed, it must be reported to the system, giving disease control centres at all levels up-to-date information on the situation, all the way up to the national CDC, where a dedicated team analyses the data and produces a daily report. If any locality reports more than five cases of pneumonia of unknown aetiology, this automatically triggers the CDC to send in a team of epidemiology experts, who will conduct an investigation by interviewing patients and collecting samples.
Yang Gonghuan stressed that reports in this system are not sent up one level at a time. As soon as any hospital reports a case, it will immediately be picked up by the national CDC: "No matter where in the country a case is discovered, even if it is just a single case, it will show up in the system as soon as the report is sent out."
The disease now spreading in Wuhan was caused by a new kind of virus. In an interview with China Newsweek, former Chinese CDC chairman Li Limin said that the Communicable Disease Control Act was amended on 1 December 2004 to deal with situations like this: In addition to listing "communicable, atypical pneumonia" as a category 2 notifiable disease that should be contained and controlled according to category 1 standards, the amended act also required that "outbreaks of other infectious diseases and other sudden previously unknown contagious diseases" must be reported to central authorities.
However, up-to-date monitoring does not necessarily mean up-to-date disclosure and prompt decision-making. According to the Communicable Disease Control Act: "During an outbreak of communicable disease, public health authorities of the State Council shall be responsible for the public disclosure of information pertaining to the outbreak."
When asked by China Newsweek, Chinese CDC chief epidemiologist Zeng Guang remarked that China's disease control system "was only allowed to do busy work": its personnel were authorised to collect and analyse data, but were not part of the decision-making process. Compared to the US CDC, which is a governmental department, the Chinese CDC is a powerless public-sector organisation, with a marginal status in the public health apparatus. During an outbreak of disease, information can only be disclosed under governmental authorisation. As an organisation tasked with technical work, the Chinese CDC could only offer advice on disease control and had no power to make decisions.
Huang Yanzhong, professor of diplomacy and international relations at Seton Hall University, and a senior global public health researcher at the US Council on Foreign Relations, told China Newsweek that the Chinese CDC, as a subordinate organisation of the National Health Commission, serves mostly as a technical and support function. Although the Chinese CDC has subdivisions down to the county level, its capacity is severely restricted and does not have the authority to disclose information. By contrast, even though the US CDC is a federal agency under the Department of Health and Human Services, it has the authority to independently disclose information and mandate responses.
Zhong Nanshan arrives in Wuhan
A turning point of the Wuhan epidemic came on 20 January: On this day, the Wuhan Municipal Health Commission updated its information, adding a total of 136 new cases diagnosed on 18 and 19 January. This report was the first to not mention "the possibility of limited human-to-human contact cannot be excluded," and "continued human-to-human transmission is unlikely."
A high-level team of experts, headed by Chinese Academy of Engineering academician Zhong Nanshan, was dispatched to Wuhan on 19 January by the National Health Commission to take charge of containment and control efforts. On the evening of 20 January, during a live televised interview on the CCTV program News 1+1, Zhong confirmed that the novel coronavirus could pass from humans to humans, and claimed that 14 medical personnel were infected by one of the patients under their care.
The news quickly set the court of public opinion ablaze. On 21 January, the Wuhan Municipal Health Commission swiftly confirmed that 15 medical personnel had been diagnosed with pneumonia caused by the novel coronavirus, and another staffer was a suspected case.
During an interview with CCTV on 21 January, Wuhan mayor Zhou Xianwang explained that the medics were infected while caring for a patient who had undergone brain surgery at the Union Hospital of Huazhong University of Science and Technology: "The surgeon neglected to notice that the patient had been infected by the novel coronavirus, so when the patient became feverish after the surgery, a doctor and 13 nurses were infected."
However, a neurosurgeon at the Union Hospital contradicted this account on social media, saying, "The claim of 'neglect' is a lie!"
The patient in question was 69-year-old Zhao Junshi, who suffered from a tumour in his pituitary gland, but had no contact history with the Huanan Seafood Market. Zhao was admitted to the neurology ward at Union Hospital in December 2019. Before he underwent surgery, medical staff did not notice any abnormal respiratory symptoms: "The patient has a history of smoking, so inflammation and increased markings in the lungs is to be expected." Because of this, there was no reason to isolate the patient, nor for medical personnel to be issued class 3 personal protective equipment typically used in tracheostomy and intubation procedures.
The surgery was carried out on 7 January 2020, after which Zhao Junshi was transferred between four inpatient wards. Three days after the surgery, Zhao's lungs showed signs of infection, and he was listed as a case of "suspected pneumonia of unknown aetiology." Some hospital staff who had come into contact with him also began to show symptoms of fever. On 15 January, Zhao was confirmed as a case of the novel coronavirus.
Meanwhile, ten nurses in the neurosurgery ward, as well as four medics in the paediatric surgery, gynaecology, cardiac surgery and cardiology departments were infected by the virus. By 19 January, the physical checkup centre at Union Hospital was requisitioned as an "infection ward," with isolation rooms on four floors housing medical staff who were suspected of being infected. At its peak, roughly two dozen doctors and nurses were suspected of contracting the disease. Roughly ten days after being censured for disseminating misinformation, doctor Li Wenliang developed symptoms of fever and nausea and was admitted into the respiratory isolation ward on 14 January. He was diagnosed as a case of the novel coronavirus on 1 February.
On 20 January, Chinese President Xi Jinping issued his first guidance on the pneumonia caused by the novel coronavirus. That same day, the State Council authorised the classification of pneumonia caused by the novel coronavirus as a category 2 disease, a designation shared with SARS. Furthermore, official instructions were to implement category 1 contain and control measures. Yet even at this stage, experts still maintained that the outbreak was "containable and controllable."
However, the annual Chinese New Year travel rush had already begun on 10 January. On 20 January, Shanghai, Beijing and Guangdong province reported one, five and 14 cases respectively, marking the first time the disease was reported in other provinces. Almost all were deemed to be imported cases, either having travelled to or coming from Wuhan, or determined to have had contact with an infected person. On 21 January, the National Health Commission began reporting the number of newly confirmed cases each day.
Even as the number of cases rose exponentially in Wuhan, and the disease began to spread around the country, mass events in Wuhan still went ahead as scheduled. On the afternoon of 20 January, the Hubei Department of Emergency Management even hosted a special Spring Festival show under the inspirational slogan, "Noble toil brings its rewards, hard work advances toward the future."
On 21 January, the Hubei provincial Spring Festival show was held at the Hongshan Assembly Hall in Wuhan. Among the dignitaries in attendance were Jiang Chaoliang, Hubei Provincial Committee secretary and director of the Standing Committee of the Provincial People's Congress; and Wang Xiaodong, deputy secretary of the Hubei Provincial Committee and Governor of Hubei Province. According to a social media post by the Hubei Provincial Folk Song and Dance Troupe, more than 40 members of the troupe were involved in various numbers throughout the show: "Under multiple layers of face masks, everyone in Wuhan overcame their fear of pneumonia with their dedication and perseverance… Performers in Xiaogan City suffered a bout of cold after a long journey and shivered while waiting backstage, but as soon as they went on stage they spared no effort in their performance."
On 21 January, the Wuhan Municipal Health Commission issued two reports on the disease: Prior to 24:00 on 20 January, the city had discovered a total of 258 cases of pneumonia caused by the novel coronavirus. On the evening of 22 January, the municipal authorities in Wuhan issued a mask mandate for all public places in the city.
In the early hours of 22 January, the Hubei provincial government declared a category 2 public health emergency. By contrast, authorities in Guangdong—which was not where the disease originated—declared a category 1 emergency the very next day.
Hubei Provincial Committee deputy secretary and Wuhan Municipal Committee secretary Ma Guoqiang later commented in an interview with CCTV, "I'm of the opinion that, if we acted earlier, things might have turned out better. For example, we began body temperature measurements on 12 and 13 January, but if we took the step of limiting travel by plane, high-speed rail, road and ferry, which we only began on the 23rd, the epidemic might not have reached the scale we see now. I feel very ashamed and guilt-ridden. If we'd taken up strict measures much earlier, the situation wouldn't be as bad as it is now, we wouldn't have brought such a devastating impact to other regions of the country, and the Communist Party headquarters and the National Committee wouldn't need to be so worried."
In the early hours of 23 January, authorities in Wuhan ordered a citywide lockdown. Yet on 26 January, Wuhan mayor Zhou Xianwang remarked that because of the Chinese New Year travel rush, as well as panic caused by the outbreak, more than 5 million people had already left the city.
(Lin Yu and Zhao Junshi are pseudonyms)