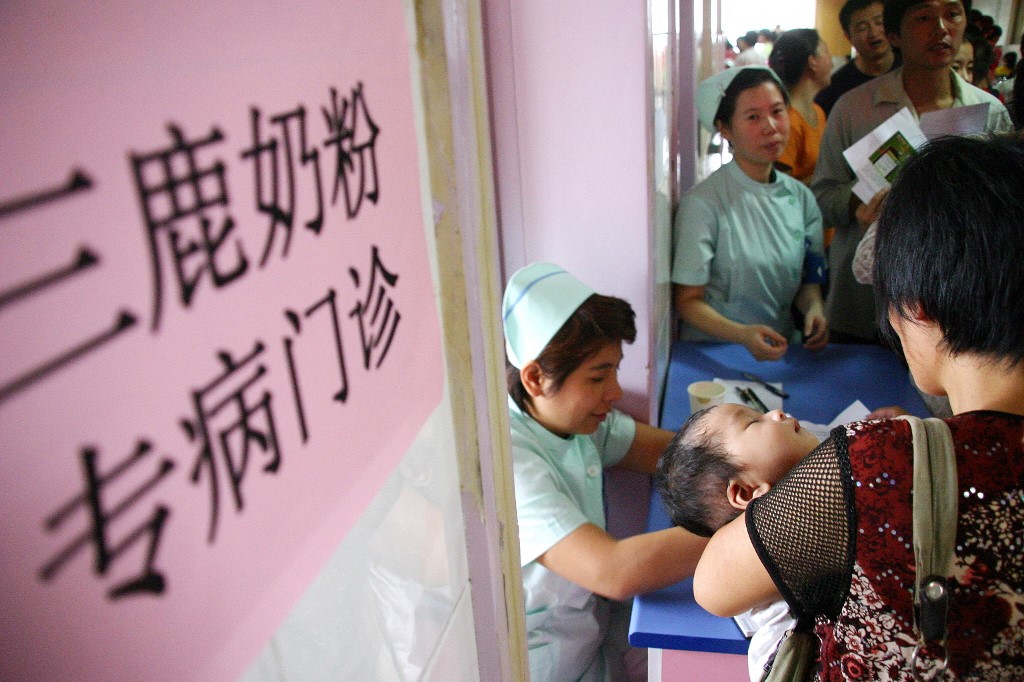 The news article that led to the strengthening of Chinese food safety standards
This news article accused the Sanlu Group, one of the country's largest dairy producers, of selling a milk powder contaminated with melamine, a poisonous substance that sickened an estimated 300,000 children in China and killed at least six infants in 2008. After the article was published, the government identified a total of 22 companies whose dairy products were contaminated and initiated the strengthening of China's national food safety standards.
The reporter who wrote this article, Jian Guangzhou, experienced threats and pressure from the Sanlu Group after the story was published, but became known among the public as a symbol of courage and integrity in journalism. In 2012, after being confronted with increased government censorship, he announced on social media that he was quitting his job as a journalist and now works for a media marketing company in Shanghai.
About Oriental Morning Post
The Oriental Morning Post, a Shanghai-based daily newspaper founded in 2003, made its name in 2008 through its early reporting on the Sanlu milk scandal and continued to provide independent investigative reporting and critical editorials. In 2012, it was one of many papers whose head staff members were suspended at the request of authorities. Its English-language counterpart, Sixth Tone, was launched in 2016, and both language editions were merged in 2017 in an online media platform named The Paper.
full article >
14 infants in Gansu suffer from kidney disease, suspected to be caused by drinking Sanlu milk powder
On Sept. 8, the Lanzhou City-based First Hospital of the Chinese People's Liberation Army's Urological Department admitted an eight-month-old infant from Gansu Province's Min County.
The infant was diagnosed with multiple stones in bilateral kidney and ureteral stones, marking the child the 14th patient admitted to the hospital found with the same disease over the past three months.
So far no official reason was given for these young children being found with similar symptoms. However, their parents said these infants were all drinking the same brand of "Sanlu" milk powders. They suspected that the milk powder their babies drank could be the reason for the illness, as those young victims of fake milk powder produced at Anhui Fuyang several years ago.
The reporter also learned that Hubei Province-based Tongji Hospital also admitted three infants with similar kidney disease around 10 days ago. Parents of the three young children originally from Henan, Jiangxi and Hubei provinces also said their babies were drinking Sanlu brand milk powder.
So far there is no information on whether the milk powders they consumed were fake or not.
In response to the reporter's inquiry, the Sanlu Group Hebei media relations department said they have already sent personnel to investigate the cases in Gansu.
The local quality inspection department found no problems after examining the milk powders Sanlu produced, according to information provided by Sanlu Group Hebei media relations department.
Possible health complications after release from the hospital
As of yesterday, among the 14 infants diagnosed with ureteral stones by the First Hospital of the Chinese People's Liberation Army's Urological Department, six of them have been released after undergoing successful surgery, with the remaining eight still under hospitalization.
According to Dr. Li Wenhui from the hospital's Urological Department, his department admitted the first infant diagnosed with ureteral stones on June 28. Over the past three months, the department admitted a total of 14 babies found with the same disease.
The reporter has learned that these patients were all in the middle or later stages of their disease, with some of them even in critical stages, when they were first admitted to the hospital.
All of them are young children under the age of one-year-old with multiple stones in their bilateral kidneys and with acute renal failure.
Following emergency treatments, eight of the total 14 are no longer in a critical state but still have to be hospitalized for two to three weeks for close observation.
Asked if they could face possible health complications after leaving the hospital, Li Wenhui said he would not rule out the possibility.
It would need further follow-up checks on these patients for the following two to three months to make sure they could have post-illness health complications, Li said.
"Sanlu" milk powder to blame
According to Li Wenhui, 90 percent of the 14 infant patients have developed uric acid stones, a rare condition that is normally found in children's and elders' bladders due to malnutrition.
The hospital believes that their conditions are the result of a disproportionate fat-to-protein ratio intake in their diet, leading to disorders of purine metabolism.
The disorder then caused uric acid and urate crystals, ultimately leading to kidney stones and renal failure.
Doctors found that all of these infants were consuming "Sanlu" brand milk powder before they developed related symptoms. Li Wenhui said milk powder is these young children's main source of nutrition and they had been using the same brand of milk powder for a long period of time.
"Therefore, we cannot rule out the possibility that there is a direct link [between their conditions] and the milk powder they consumed."
Xiao Li's eight-month-old son is one of the 14 children in question. Xiao Li said that since his son was born, he has been drinking "Sanlu" milk powder. Each pack of 400-gram Sanlu milk powder costs 18 RMB, though he wasn't sure exactly what kind of Sanlu brand milk powder his son consumed.
Since his son was seven months old, every four days the infant would consume a pack of Sanlu milk powder.
"That is how he drinks the whole time, and we never thought there would be any problem. Recently, however, we found the baby cannot urinate at all."
Xiao Li said several infants in her neighborhood also have similar symptoms.
So far seven of the 14 young patients' parents have jointly signed a petition to ask Gansu Province's Health Department to thoroughly investigate the cause of their children's disease.
"Well-known brand of milk powder sold at a regular supermarket"
Yesterday, the reporter learned from the Food and Drug Bureau under Gansu Provincial Health Department that the authorities received similar reports a while ago and are currently conducting a joint investigation with other departments.
In the afternoon of Sept. 9, investigators sent by the Health Department visited the First Hospital of the Chinese People's Liberation Army's Urological Department for the matter.
According to Yang Jingke, spokesman of the provincial health department, the department has sent related pathology samples to national judicial authentication institutions for further examinations. Probe results have yet to be made public.
Yang Jingke believed that the latest cases are not as serious as the fake milk powder incident several years back reported at Anhui Fuyang. However, the department still decided to soon hold a press briefing in the morning of Sept. 11 to make public the latest development of its ongoing investigation, after receiving frequent media inquiries.
Meanwhile, the Children's Hospital of Nanjing's Department of Urologic Surgery has also recently admitted five young children found with similar kidney diseases after consuming the same brand of milk powder.
Those who are found in more critical conditions have been transferred to Shanghai for further treatments.
The mother of one of the patients said, "the brand [of milk powder] was bought at a regular supermarket, it is a well-known brand famous for its quality products with relatively cheap prices."
Before that, parents in Shandong, Gansu, Anhui, and Hunan provinces told reporters in Hubei that their children have developed similar symptoms after consuming the same brand of milk powder.
Response from the Milk Powder Company
No evidence to prove that these infants became sick due to Sanlu brand of milk powder
Parents and doctors have been suspecting that these children's conditions are the result of the milk powder they consumed because they all drank the same brand of milk powder and milk powder is their main source of food.
The reporter established contacts with the Hebei-based Sanlu Group yesterday afternoon. A representative of the group's media relations department, Yang Ai, said the company has learned that a number of infants have become sick. The company has sent its representatives to gain a better understanding of the latest situation, according to Yang.
Yang Ai told the reporter that Sanlu is a well-established milk powder brand. Currently, there is no evidence showing that the infants became sick after consuming Sanlu milk powders.
The company believes that related national judicial authentication institutions will conduct a thorough probe into the case.
Yang Ai later called the reporter again, saying that the local judicial authentication institution in Gansu has just concluded its own examination of Sanlu's milk powder products, and the latest the test results have shown these products have passed all required tests with no irregularities found.